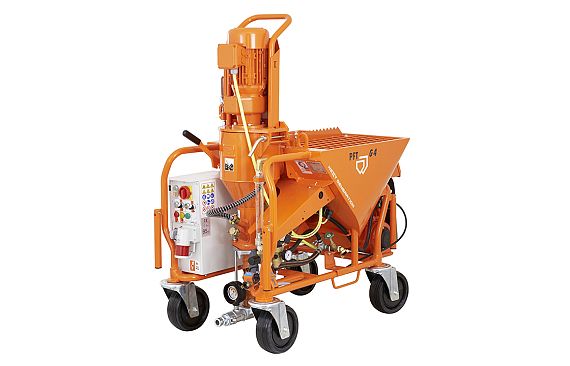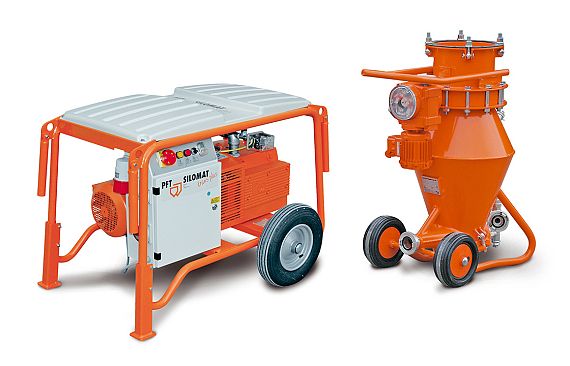 PFT - Knauf
PFT - Inventor of the mechanical single-layer plastering technique
Technology and science have led to changes in all areas of life. The methods for mixing and applying mortar have also undergone significant changes. The machine has become the tool of today.
It is a mission of Knauf PFT GmbH & Co. KG implement the results of science and research in high-quality machines. Therefore PFT's motto:
PFT - The flow of PRODUCTIVITY
The inventors of the mechanical single-layer gypsum plastering technique, Dr. Alfons Knauf and Karl Knauf, laid the foundations for PFT current importance in the 70s. The successful and dynamic enterprise PFT, today located in Iphofen near Würzburg (South Germany) was founded in 1972.
Dynamism and solidarity, combined with entrepreneurial farsightedness, has enabled PFT to occupy a leading position among the European manufacturers of mixing pumps and transport equipment. Eccentric screw pumps, continuous mixers, tools and accessories complete PFT range. PFT's machine technology can be successfully applied in all areas of the construction sector and also in industry. The basis of our success is the consistent involvement and training of efficient specialist traders, providing a region-wide service network, both at national and international level. PFT distribution strategy is based on fair partnership and focuses on excellent service to our customers.
gene customers in our home country Germany will have to drive far to reach an experienced and knowledgeable PFT sales partner - an exemplary density of service network that sets standards in this industry. 150 sales and service stations and a motivated field service team take care of what comes first in PFT's vision of performance: growth and our customers' success.
At the international level, play PFT also a very active role in the construction sector. The Franconian company exports its quality products to more than 40 countries worldwide. Highly qualified advice and service to our customers is always our first priority, even in the remotest regions. The distribution is carried out by authorized PFT sales partners for construction machines and by our own branches.
PFT is also the symbol of the rapid, modern building site with a future ,: human, labor-saving, efficient, silent, waste-free and environmentally friendly. Thanks to advanced technology, economic working and top quality "Made in Germany", the PFT system is in a permanent process of further development and improvement. The objective is a continuous and trouble-free material flow on every construction site.
Performance and skill are appreciated by our satisfied customers, and will remain our commitment - to keep things moving, today and in the future.
Link til hjemmeside: www.pft.de